How's the Real Estate Market?
Check back on a regular basis as we update this page with market data and information regarding the real estate market in Scottsdale and surrounding area.
Below you will find charts, graphs and commentary from the Cromford Report, including the Cromford Market Index™ (CMI).
The CMI is a "leading indicator", that is, it gives readings that relate to the present and short-term future of the market. It is quick to react to changes in market conditions. If the CMI is rising then the market is becoming more favorable for sellers and vice versa. Values below 100 indicate a market that favors buyers. Values above 100 indicate a market that favors sellers. A value of 100 is equally balanced.
The Cromford Supply Index (CSI) represents the supply position. Values above 100 indicate an excess of supply of unsold homes compared to historic norms for the market being considered. Values below 100 indicate a shortage of homes on the market. A reading of 100 indicates balanced between Sellers and Buyers.
The Cromford Demand Index™ (CDI) represent the demand for homes. Values above 100 indicate higher than normal demand and values below 100 indicate lower than normal demand. "Normal" is defined by the historical data for the market under consideration. A reading of 100 represents balance.
For your reference, here is a historical chart of the CMI beginning in 2002 continuing through January 1, 2016.
May 5, 2016
For the first time since November 2014, supply of available homes is higher across the valley than it was the previous year. This is generally good news for buyers, as it means there are more listing competing for their attention. HOWEVER, buyers looking for homes under the $200,000 will find this is not to be true. Sales under $200,000 have made up 45.5% of all sales in the last year, which exacerbates the shortage of available homes in this lower price ranges. Overall, the metropolitan area is still nearly 19% below normal supply of available homes, with the lower price ranges being in the shortest supply. Buyers looking for homes over $300,000 are experiencing an 11% increase in available homes valley wide. The resulting increased competition in the higher price ranges has lead to a 19% increase in weekly price reductions by sellers, compared to the same time last year, especially among listings over $500,000.
There is some good news for sellers. Demand from buyers has been rising over the past month and seasonally adjusted demand is close to its highest level for buyer activity. Contracts in escrow are up 5% and sales are also up 7%. Sellers who wish to list their home at the "peak" of buyer activity should not wait much longer. April and May are typically the highest months for buyer activity before slowing down over the summer months. This is especially true in the higher end market over $500,000. It is not uncommon for buyer contract activity to drop anywhere from 25% - 40% between May and August as buyers head for cooler climates. 
Here are the stats for today as compared to the same day in 2015.
Sales Up 7%
Median Sales Price Up 6.4%
Active Listings Up 1%
Below is an infographic for April 2016 and as you can see, year over year, listings under contract are up, median sales price is up, total sales are up and days on market is down. All good news for Sellers. And if you are a buyer, delaying the decision to purchase will likely cost you more money for the same home the longer you wait, especially if you are purchasing under $200,000.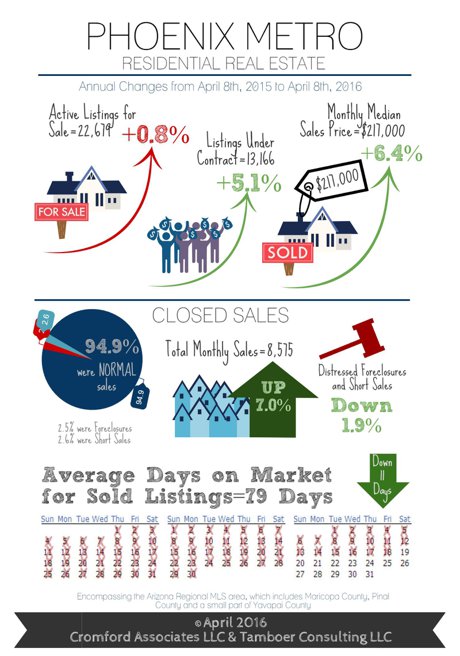 ***************************************************************************
February 10, 2016
When looking at the real estate market across the entire Valley of the Sun from a seller's perspective, they have both good news and bad news.
The good news is that buyer activity is still strong. Interest rates are still low and trending slightly lower, and boomerang buyers, those consumers that had either a short sale or foreclosure in the last 4-7 years have waited the required amount of time in order to be able to qualify for financing. Therefore they are beginning to come back into the market, keeping demand stable thus far across pretty much all price ranges.
The bad news for sellers is, despite the overall 7.5% decline in supply (homes listed for sale), the number of competing listings over $200,000 has increased 5% compared to this time last year. This added competition is keeping appreciation subdued for sellers on the higher end of the spectrum.
Take a look at the chart below. You will notice in the middle of the chart, the CMI (see definition above) has been trending down over the last month across the Phoenix metro area. Watch the CMI closely over time, as it tends to react quickly to market changes. When it trends upwards, it means the market is swinging more towards the seller. When it trends downward, it means the market is swinging more towards the buyer.
For Scottsdale sellers, the story is pretty much the same. The number of active listings is up over January 2016, which means more competition in selling their home, demand seems to be down slightly over January 2016, all of which leads to the Cromford Market Index (CMI) for Scottsdale to trend downward. This is not good news for sellers. Many will find that their list price expectations will be a little ambitious unless they are willing to be patient and wait for the market to improve. This is especially true for the higher priced homes where in addition to higher supply, demand has weakened even more than other sectors, which I attribute to the declining stock market.
Bottomline is, if you are considering selling your home, its not all doom and gloom. We still have a healthy market tipped a slightly towards the seller in many segments. Just be aware that the numbers indicate that the market may be swinging a little bit more towards the buyer right now. Take that information into consideration when making your decision.
*************************************************************************
January 8, 2016
***********************************************************************************
December 16th, 2015
The Feds have finally done what they have been hinting at for quite some time.... they raised the Federal Funds Rate by 0.25%. The increase probably won't have much of an immediate affect on the mortgage rate, but it will certainly put upward pressure on mortgage interest rates. And as mortgage rates increase, homes become less and less affordable.
The table below give us a snap shot of our local market based on data from the Arizona Regional Multiple Listing Service. A couple lines I would like to point out: 
Active Listings - Down from a month ago, Down from a year and two years ago. Less inventory makes it difficult for Buyers to find the home they want, and when they do, they are competing with other Buyers in the market for similar homes.
Months Supply - Down from a month ago, Down from a year and two years ago. Having a six months supply is considered a balanced market, resulting in little price movement in either direction. Having a 4 month will result in a slight upward pressure on home prices. Keep in mind that this number is for all homes in all areas in all price ranges. The months supply varies significantly when you drill down into the market by home price, with the higher priced and luxury homes having higher months supply and therefore not likely to experience the upward pressure that lower priced homes will.
Listing Success Rate - This measures what percentage of homes that sell, as opposed to expiring, being canceled, or withdrawn from the market. As you can see, this number is up, which is good for sellers.